20 Sep

5 office branding tips that will transform your brand

Your work space can be a useful tool to help bring your brand to life.

Instead of being boring and dull, your office design can offer several benefits for your company like increased productivity and more creative employees.

How you brand your office encompasses your company's values, mission, identity, and much more. When you have a more collaborative brand, your employees and customers will begin to respond.

So what are the must-know branding tips?

1- Reflect on Past Branding Efforts

The first step that you should take in branding your company's office space is to reflect on what your company is all about.

What have your past branding efforts consisted of and how did it represent your brand? Start asking yourself these questions to gain a retrospective insight on how your brand is accompanying your mission, values, and identity.
Businesses often don't take the time to answer important branding questions.
After you've reflected on how you've aligned your business with your branding efforts, it's time to gather more information that will help you when branding your office.
Write down your answers to these questions to help jump start the process.
– Is there a unique story behind your business?
– What 5 adjectives best describe your company?
– What is primary message you want to convey to your customers?
– What 5 adjectives best describe your customers?
– Describe your brand's personality.
– What problem does my company solve?
– When people think about my company, what do I want them to associate it with?
– What is my value proposition?
By answering these questions, you can brainstorm ideas that you may want to incorporate into your office.
For example, if you have a unique story, you can highlight it in the design of your office. Apple's office design used to include a large portrait of Alan Turing, who helped bridge the path to modern computing. Apple recognized the opportunity to highlight someone who had a large influence on computing, and used this to their advantage.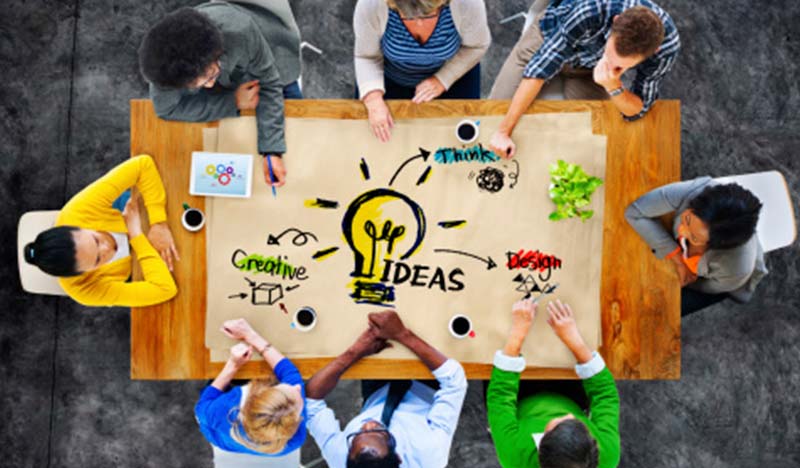 3 – Include Your Employees
Your employees aren't just workers with assigned tasks, they have a large impact on what people think about your brand.
Ask your employees to answer the previous questions.You can use their answers to create a more collaborative and defined brand.
Also, ask for their input on certain branding decisions. There's no reason that they shouldn't be included in on a decision that will help your company progress. If anything, it will give you a better direction for how to brand your office space.
4- Highlight Your Product or Service
If you have a successful product or service, bring it to the forefront. If you offer TV's, you should have your TV's in the office. Coca-Cola's headquarters in Belgrade were successful in focusing in on their product. The name "Coke" is enlarged in their conference room and several messages deriving from their slogans were used throughout the office.
The bottom line with creating a branded office is to be creative.
iMedia suggests using the color of your office to resemble your brand, assuming that it's not too outlandish.
Try to best match the actual color-tone that you're using for your brand.